The dog has accompanied humans for thousand of years. In fact, this animal participated to a greater or lesser extent in the first cultural advances of humanity. Thanks to them, humans were able to hunt more comfortably and efficiently and later the work of the dog allowed the development of herding and, consequently, livestock farming.
Although it is not know exactly when dogs and humans began to collaborate, researchers think that it must have coincided with the first human settlements. There is now evidence that the inhabitants of Jericho, the most advanced people of their time, had already domesticated the dog around 6300 BC.
This partnership between dogs and humans has not only proven to be beneficial, but also full of affection and mutual respect, since ancient times. In the excavations of the volcanic ashes that buried the ruins of Pompeii in the year 79 AD, they found a dog lying next to a child, the dog whose name was Delta, wore a collar in which it said that he had saved the life of his master Severnus 3 times.
With the passage of time, the dog, which at first had a very important role in a series of activities that were carried out outside the house, gradually adapted to human life to the point where it became an urban domestic animal that it is the one we know today and, generally, it does not carry out hard work in the fields, but rather rewards us with its company.
Dogs are the predominant domestic animals and they enjoy the greatest acceptance and popularity in our civilization, as demonstrated by the constant increase in specimens of all breeds that are registered in the urban center. Thanks to the intervention of man, today there are more than 400 recognized breeds, not counting the great infinity of mixes that have been more or less accepted.
In other words, since ancient times it is not know exactly if the dog has adapted to man's way of humans or humans have also had to adapt to the dog's way of life since they continue to have traits of pre-hispanic nature and we, in the desire to create a companion for our needs, have tried to modify the requirements and needs of these animals.
To know a little more about them, we will have to travel to the dog's past.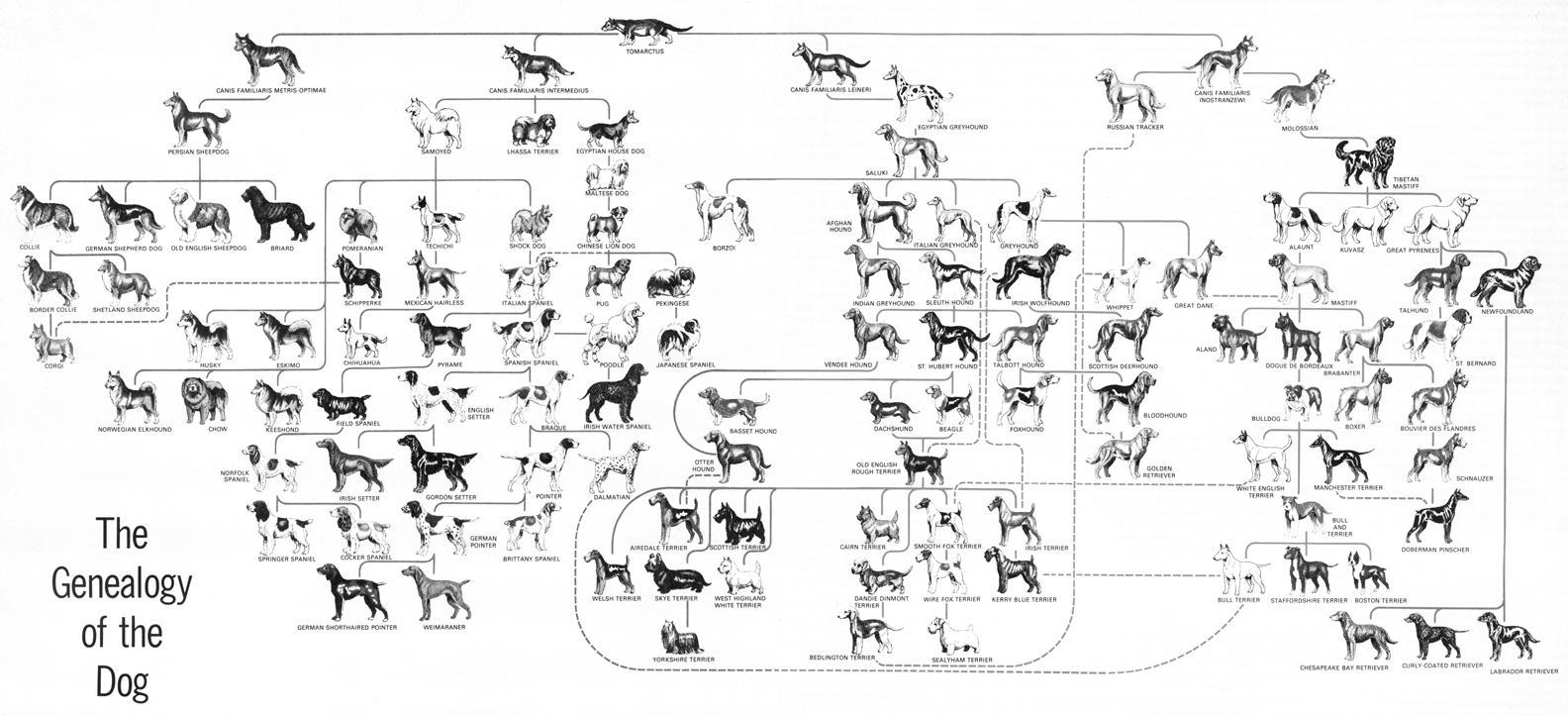 ORIGINS OF THE DOG
The legacy of the wolf
It is not easy to specify the ancestors of the current dog, since there are various theories about it, but if we carefully observe the dog's behavior we will quickly realize the similarities it has with the wolf.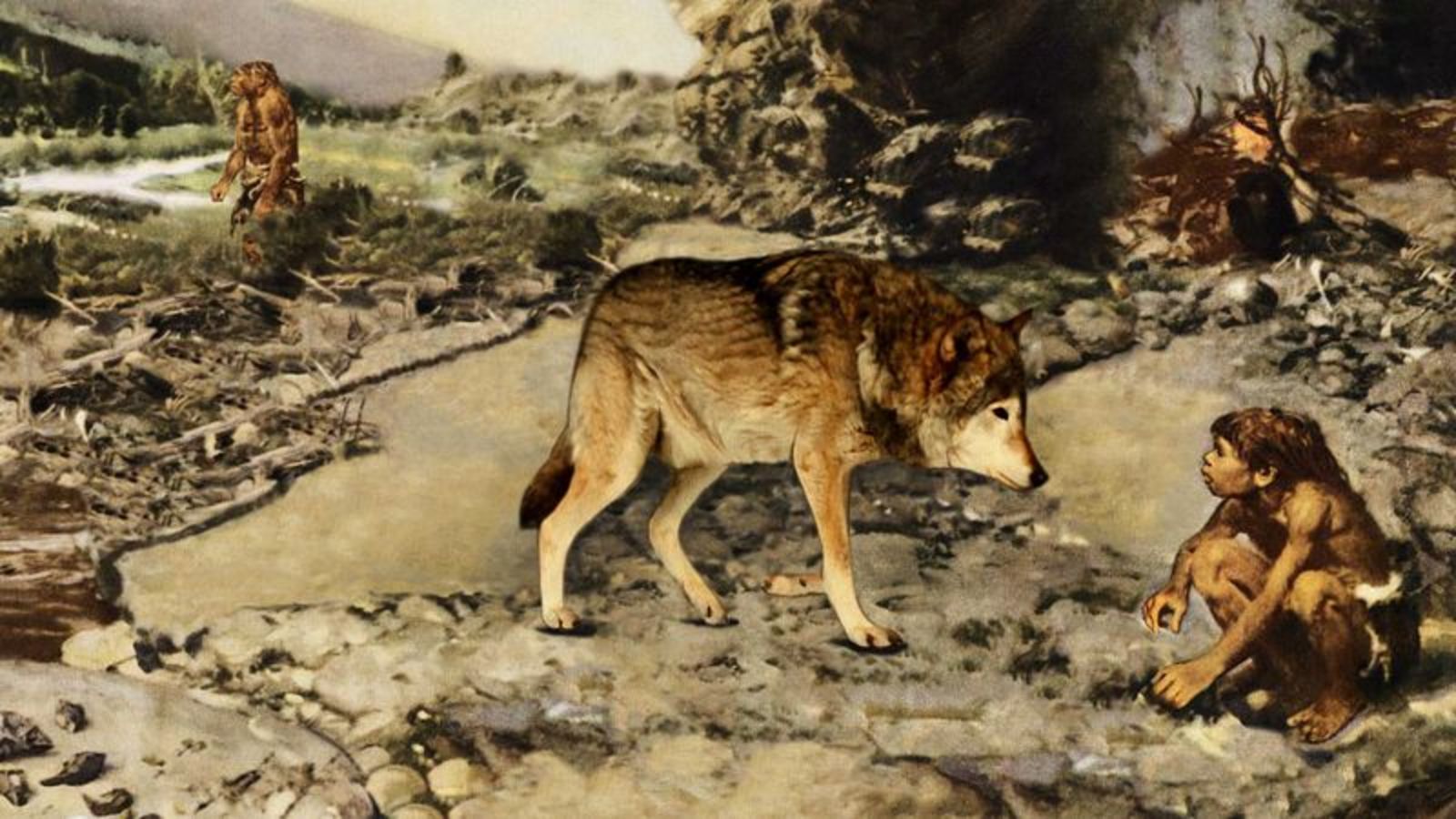 In some archaeological sites, remains of canids have been found, which could be the ancestors of the current dog. However, there are such notable differences between them, currently the theory of a double evolution has been postulated, according to which some species come from the canis familiaris puitiantini, a large animal related to the bulldog and similar to some primitive molossers, and others from the familiar canis nostrazewi, a considerably smaller canid and closer to the dingo.
It is believed that most of the dog breeds currently derive from crosses of small primitive dogs with different species of canis, such as the wolf, the jackal, the golden retriever, etc.
There are many similarities between the dog and the wolf; not only from the physical point of view, but also social and character. Many specialists postulate that the first specimens that coexisted with humans were nothing more than domesticated wolves. If this hypothesis were proven, then all the dogs breeds would have to be considered as produced entirely by humans.
When we see the dog, it retains certain basic behavioral traits that characterize the wolf. In fact, the dog could be considered an immature wolf, whose coexistence with a group of humans has prevented it from fully developing its instincts, so that it has no acquired sufficient capabilities to function on its own and survive. Dogs should be considered as a neotenic animal.
To better understand neoteny, it is a theory about canine behavior that could be summarized as follows: if we see its wild state, a puppy is not self-sufficient, or it is easy to make it dependent on man, unlike an adult wolf, who it is almost impossible to establish this same dependency because it does not need anyone to survive.
According to this theory, the domestication of the wolf was carried out by stagnating its psychic development in the juvenile stage through a selection process. From this it is deduced that the dog has a psychic development comparable to that of a wolf cub.
THE ROLE OF THE DOG IN SOCIETY
Today it would be unthinkable to conceive our world without the company of our best friend, the dog. Since 10,000 years BC, his figure has been part of our imagination. Thanks to different researchers we know that the dog has been represented throughout the history of humanity as a guardian, protector, companion and hunter. Even for many cultures it was a divine gift and was related to death and evil forces.
Now there are many roles that dogs play in society. There are working dogs, such as herding dogs that teach us to control livestock within the corral.  There are also canines within the police with their special role that can be search or protection or both, likewise the dog in gratitude for their love
plays an important role within their home, they provide us with a feeling of emotional well-being through the unconditional love they give us, that is why they are a great company and comfort for some people who live alone, in addition to helping other people recover from personal trauma and also safeguarding the place where they live and keeping it protected.
How domestic animals have helped us in our lives.
Animals have not only played an important role in the evolution of man but they have also played an important role in history, apart from helping us in our daily tasks, they help us in science, such is the case of the famous dog Laika who was sent to The moon she was a Soviet space dog and became the first terrestrial living being to orbit the Earth. It did so aboard the Soviet spacecraft Sputnik 2 on November 3, 1957. Therefore, it also became the first animal to die in orbit, to help humanity progress in their race to conquer space.
Nowadays we also have the help of dogs in search and rescue, they play and important role as demonstrated when there's earthquakes like the one in Mexico city in 2017, they are specially trained to find people under the rubble, some of the most famous names are Frida, Proteo, Balam and Orly.
With this we can conclude how animals and humans work together for society and that as humans we must work to respect and protect them.
You can help us keep helping the dogs and cats of our community by donating, you can be a one time donor or become a monthly sponsor. Click here now!